April 22, 2018
10a – 3p
We invite you to the Grand Opening Celebration of the new Bubolz Environmental Center and our Earth Day Festival!
The event begins with a Saturday evening Gala, highlighted by keynote speaker Richard Louv.  Richard Louv is a journalist and author of nine books, including Last Child in the Woods: Saving Our Children From Nature-Deficit Disorder, The Nature Principle: Reconnecting with Life in a Virtual Age, and most recently Vitamin N: The Essential Guide to a Nature-Rich Life: 500 Ways to Enrich Your Family's Health & Happiness.  In his groundbreaking international bestseller Last Child in the Woods, Richard Louv spotlights the alienation of children from the natural world, coining the term nature-deficit disorder and outlining the benefits of a strong nature connection—from boosting mental acuity and creativity to reducing obesity and depression, from promoting health and wellness to simply having fun.  Bubolz Nature Preserve is bringing this concept to the Fox Valley with our soon to be announced Need for Nature campaign.
The weekend continues on Sunday with a Free Family Festival from 10am – 3pm featuring:
Hands-on environmental activities
Live Animal Presentations
Electronics Recycling
Children's Music with Randy Peterson
Keynote Speaker by Best-Selling Author Richard Louv
Special Appearance by PBS Character Nature Cat
Your involvement to promote your products, brands and services will increase your company's visibility and strengthen its association with environmental sustainability in the community.  Your sponsorship and/or hands-on activity will highlight what your company is doing to support community efforts and environmental stewardship.  Sponsors receive a wide range of benefits, which can be personalized to meet your needs.   Sponsorship Opportunities HERE
We hope you will join us as we bring the Need for Nature movement to Northeast Wisconsin and
celebrate Earth Day!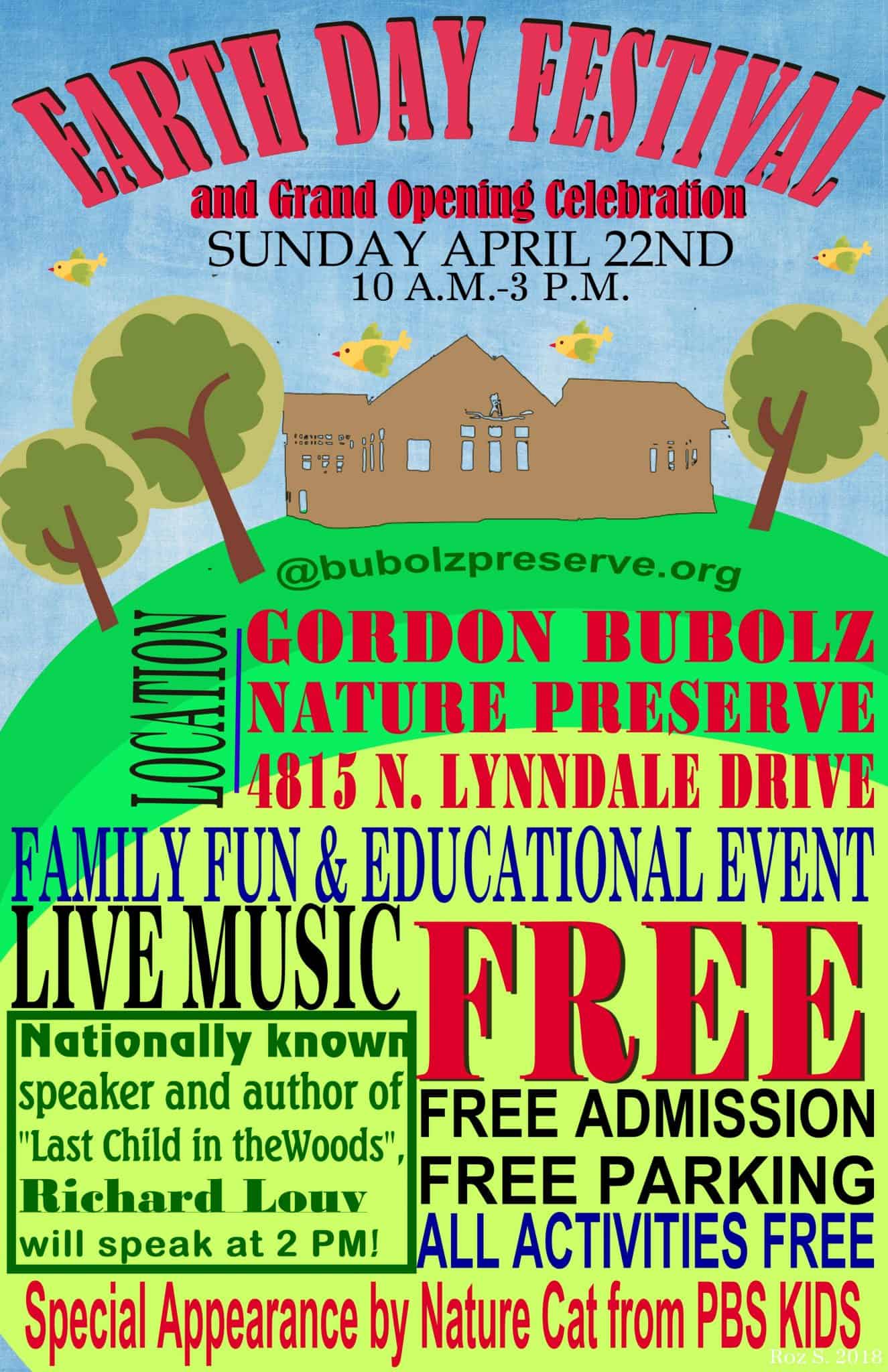 Electronics Recycling with K9 Tech Services
Items accepted for free:
Auto Batteries
Auto Parts
Bicycles
Books/Magazines
Calculators
Cars
Cell Phones
Coffee Machines
Computers
Copiers
CPU's
Dehumidifiers
Fax Machines
I-Pods
Key Boards / Mice
Laptops
Lawn Mowers
Machinery
Mechanical Equipment
Microwaves
Modems
Motorcycles
Musical Instruments
Office Furniture
Office Supplies
Ovens
Paper Shreddres
Power Cords
Printers
Radios
Ram
Record Players
Remotes & Controllers
Restaurant Equipment
Scrap Metal
Servers
Snow Blowers
Speakers
Stoves
Tape Players
Telephone Systems
Tools
Trucks
Vacuums
Video Cards
Video Equipment
Video Games & Systems
Vinyl Records
Wire & Cabling
Items Accepted with a Fee:
Any Size Flat Panel TV $15/ea
TV's up to 29″ $15/ea
TV's over 30″ $30/ea
All Council/Rear Projection $50/ea
Flat Screen Monitors $15/ea
Fluorescent Light Bulbs $2/ea
Refrigerators/Freezers $10/ea