Trail Update
Wilderness Trail will remain closed seasonally due to high water.  This trail is typically only open in the winter months.  Please do not attempt to walk this trail. Detached restrooms remain open for your use. 
With over 8.5 miles of trails, Bubolz Nature Preserve in Appleton, Wisconsin offers year round access to nature.  The trail systems offers five trail options for hiking, walking, snowshoeing and cross country skiing.
Bubolz Nature Preserve Rules
| | |
| --- | --- |
| | Be respectful of others and preserve property. |
| No dogs , bikes or motorized vehicles of any kind | Stay on the designated trails. |
| Be careful not to leave any litter. | Do not release wildlife or domesticated animals. |
| No smoking or alcoholic beverages. | Do not collect plant, animal or natural materials. |
| No firearms or flying drones. | Be aware of your surrounding: safety first! |
Professional Photography Permit
We love visitors at the Bubolz Nature Preserve and encourage visitors to take casual photographs for their own personal use. We also welcome novice and professional photographers to showcase local nature through photography.
However, if you are coming to the preserve for the sole purpose of taking posed photos of people, you need a photography permit so that we can coordinate with our staff, programs and visitors to provide you with a positive photography experience. This includes wedding, family, engagement, graduation, prom, senior photos or the like.  A photography permit is available for $100/year and can be purchased in person or on our website www.bubolzpreserve.org
It is also strongly encouraged that you call ahead to be sure you are not interfering with preserve programs and/or activities. In addition, there are times the preserve may be closed to photography, and calling ahead will save you the inconvenience of having to relocate.
Please note that taking professional photos without a valid permit will be considered trespassing and you will be subject to fines from the Grand Chute Police Department.
Thank you in advance for adhering to our policy.  Should you have any questions, please do not hesitate to contact Samantha Ziepke, Office Manager at (920) 731-6041.

Summer Trail Map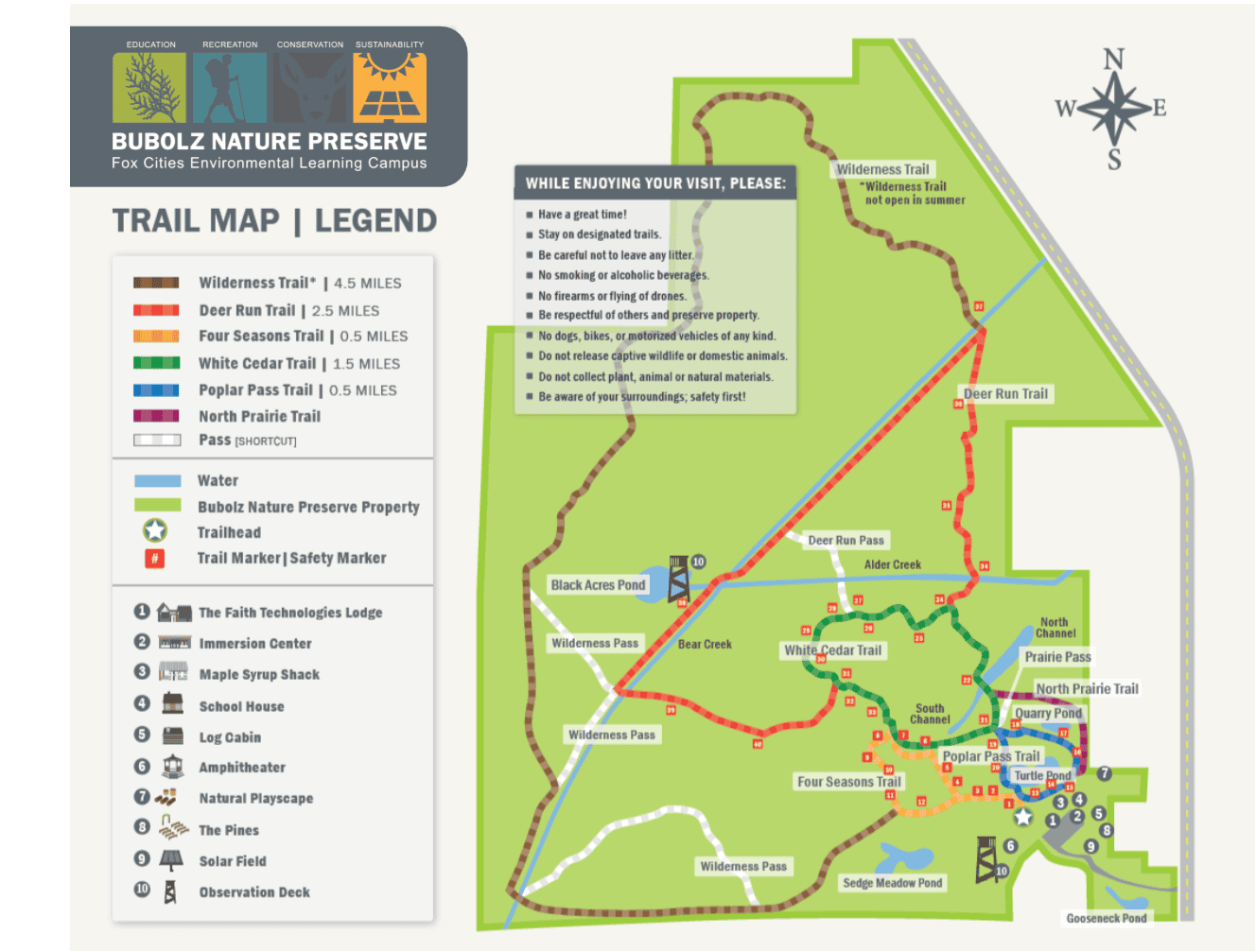 Winter Trail Map