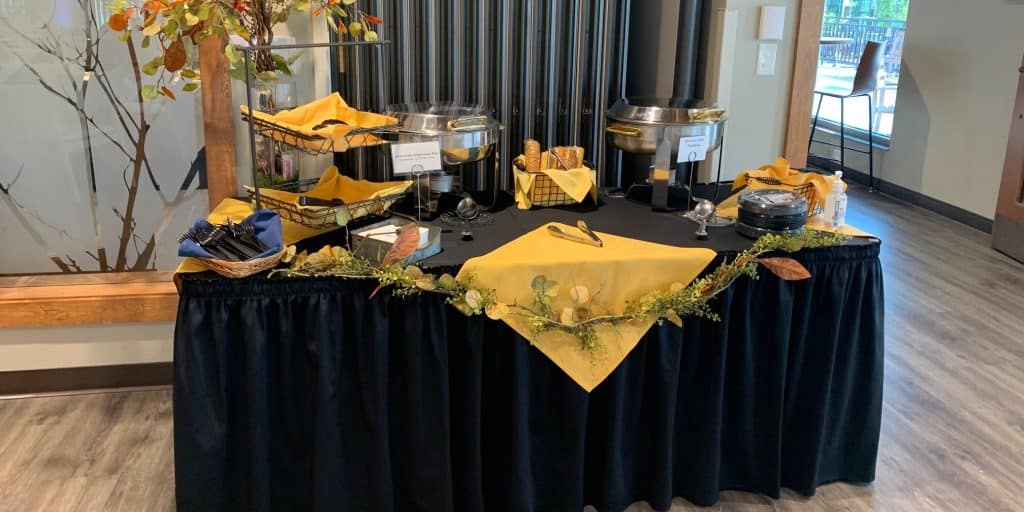 We look forward to serving you and will strive to make your special day with us the best it can be. The following policies will help us ensure success on your behalf.
Deposits
A signed agreement, full payment of room rental, and a $1,000 security deposit are required to be returned no later than 10 days after receipt of lease agreement.
The initial room rental payment will be applied to the final bill but will be withheld in the event of cancellation of signed agreement.
The $1,000 security deposit is held and credited toward potential expenditures that go above and beyond the "estimated billing" total that is due 3 business days prior to the event date.
Guaranteed Counts
A guaranteed count is due no later than 14 business day prior to your event on all beverage selections.
At that time an estimated bill of all charges incurred throughout your event (based on your guaranteed count) will be calculated and payment for that amount will be received.
Billing
All billing will be to group contact only; payment for all services will be group contact's responsibility. Any overpayments will be refunded via check to group contact.
Following the wedding, the "final" bill is calculated based on the actual charges incurred at the wedding, the estimated prepayment and the deposit will be credited to the final bill. Any amount due the guest will be returned in the form of a check or as a credit card credit, depending how payment was made.
Payment by Check, Cash or Credit Card. 3.5% service charge will be applied if paying by credit card.
Bar and Bartender Service
A $60.00 set-up fee will be charged for banquet bar.
Service charge (20%) and sales tax (5.5%) will be applied to beverage service.
The group contact will pay the difference if minimums are not met.
Catering
Cancellation
Cancellation of signed agreement will result in forfeiture of initial room payment. The security deposit will be refunded.
In the event of re-renting the same space for the same date, time and location, 50% of room rental payment will be refunded.
Decorating
All set-up and tear down for the event must take place within the contracted rental time.
Bubolz Nature Preserve is not responsible for decorating. Lessee understands to contract with a professional decorator or personal attendant.
Use of confetti, glitter, silly string, rice, birdseed, straw, hay or balloons as decorations on the tables or in the room is prohibited in the Preserve facilities. An additional $250 clean-up fee will be charged if unapproved items are used.
Storage space is not available at the Preserve for personal belongings or event related items/equipment.
Bubolz Nature Preserve will not remove or cover the animal displays or sponsored room signs.
Damage & Liability
Bubolz Nature Preserve is not responsible for damage, theft, or loss of any items left at the Preserve prior to, during, or following any function.
The group contact is responsible and shall reimburse Bubolz Nature Preserve for any damage, loss or liability incurred at the facility caused by guests or outside groups contracted by the client to provide any service or goods prior to, during or following any event.
Due to the nature of the surroundings, no sparklers, bottle rockets, firecrackers, or any other fireworks are allowed on the Preserve premises.