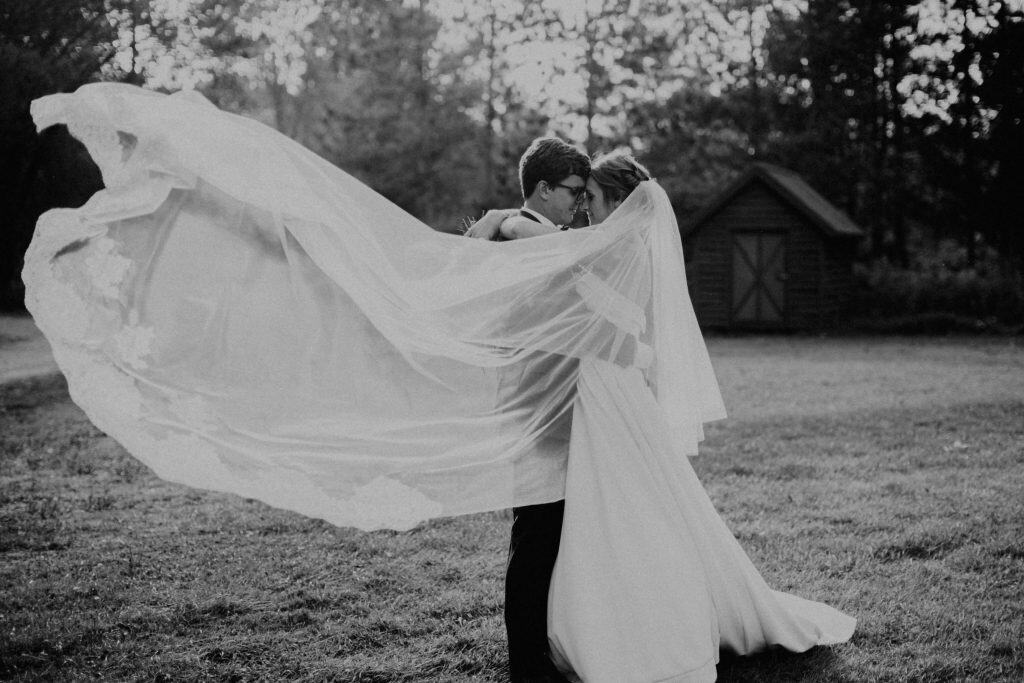 Walvort/Vande Voort Wedding
Bubolz Nature Preserve was everything we could have wanted for our wedding and more. From the very first picture we saw online, we fell in love with the venue and knew that it would be perfect for our wedding. Throughout the planning process, everyone on staff was extraordinarily helpful and did everything they could to bring our vision to life. They are truly dedicated to making your day exactly what you want it and do so with exceptional kindness and positivity. We had our ceremony in The Pines site and our ceremony in the Great Blue Heron Hall. Both sites received many compliments from our guests and are truly beautiful and unique spaces on their own. I could not recommend Bubolz Nature Preserve more for any event. It is simply stunning and will make all of your dreams come true!
Samantha & Porter Vande Voort
(photo by JDog Studio)
---
Hillmer/Gersmehl Wedding

We just wanted to send you a special thank you for all your hard work with our wedding. We couldn't have asked for a more perfect day. It was so nice to not have to be bothered about things and to know and trust that you would get everything done for us! We truly got to enjoy our day because of you! I hope you enjoyed the flowers we brought for you yesterday.
Everything was exactly as we wanted it and even exceeded our expectations. The Blue Heron Hall was gorgeous and held all our guests so comfortably. Our guests enjoyed all the outdoor decks and said the bar staff was efficient and friendly!
With all my worries about the solar panels the ceremony area in the pines ended up looking perfect and I am sure the photos are all going to be beautiful! The pines really embodied everything Jordon and I had pictured for the place we would exchange our vows. I had a few people even tell me that it truly felt like you were in the middle of the woods without having to go on a hike to get there.
Thank you for accommodating and allowing us to have scooters and things picked up on Sunday so we could ensure all our guests could get to the ceremony area safely.
Again, thank you for everything. We can't say that enough. It was a special day that us and our families, and we will cherish the memories for the rest of our lives. You and all the staff at Bubolz should be proud of all your hard work!
With love,
Jordon & Tessa Gersmehl
(photo by Abigail Miles Photography)
---
Morelock/Miller Wedding
Our experience with the staff was quite excellent, I would say. Everyone we dealt with was very accommodating and quick to answer our questions with speed and clarity. It really made it a stress-free experience knowing we could ask a question and get a quick response. You've compiled a top-notch staff.
I'm not sure there is too much I could improve with the venue, to be honest. All we've heard are compliments about the space and the venue as a whole; it was a really good experience for us and for all our attendees. An excellent atmosphere and mix of indoor and outdoor spaces really made people feel at home, and I'm not sure there's anything I could suggest that would improve on that.
Yes, we definitely got our money's worth. I would be surprised if we could've found any other venue of that high quality for that price. The price of the venue in combination with how willing you guys were to work with us on the beverage fees impressed us to no end.
Absolutely we'll be recommending Bubolz whenever applicable. I don't think we could've asked for a better experience for our wedding, and have no reason why we wouldn't recommend you to others.
Kindest Regards,
Josh and Stephanie Miller
---
Maurer/Romenesko Wedding
I just want to start off by saying THANK YOU. You succeeded all my expectations for making my wedding day perfect. Thank you for being patient and understanding with my family too. I know sometimes they can be overwhelming and demanding. But overall Yes, I had a great experience with the preserve staff. Very welcoming and helpful with anything that I needed. You did a great job with everything.
Thanks again for everything,
Haelee Maurer (bride)