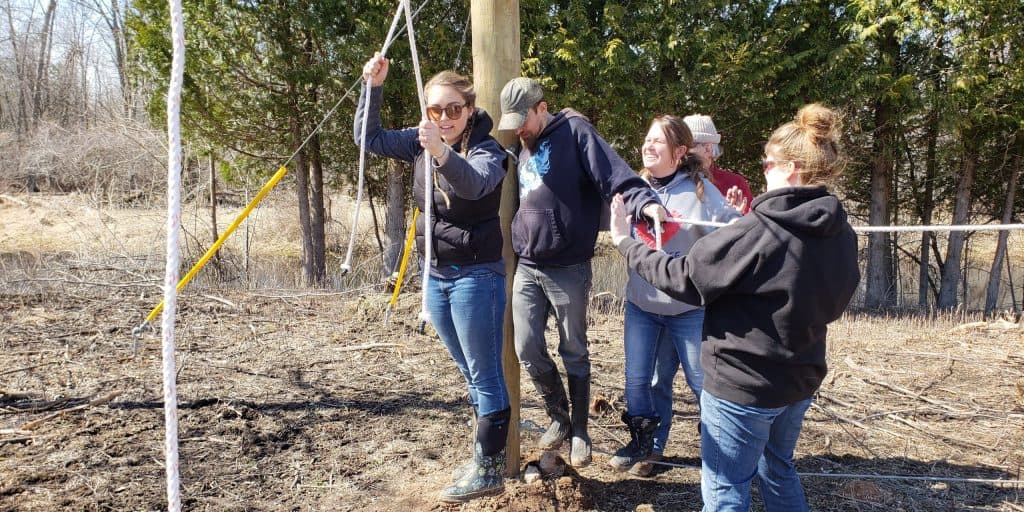 Step out of the office and into nature.
With over 700 acres of diverse habitat rich with wildlife, Bubolz Nature Preserve provides the ideal location to spark innovation and outside the box thinking. Let the great outdoors be your team's guide to better communication, understanding, and employee engagement thus; improving workplace productivity and human relations.
Let our expert facilitators help enhance your:
Team Synergy
Interpersonal Relationships
Positive Mindset
Stronger Communications
Performance Under Pressure
Team Confidence and Cooperation
Explore our Team Building Programs
GPS & Geocaching
Explore Bubolz Nature Preserve by Geocaching! Your group will be split into teams while using a handheld GPS unit to search for geocaches hidden throughout the Preserve. A great team building activity that teaches both collaboration and healthy competition.
Season: Any
Activity Level: Moderate
Cost: $25 per person
Ecology Hike
Refresh the mind while exploring the natural wonders of Bubolz Nature Preserve through a guided nature hike. Enjoy the fresh air, sights and sounds of nature while hiking our prairies and forests.
Season: Spring, Summer & Fall
Activity Level: Low
Cost: $15 per person
Low Ropes Course
This challenge course will promote critical thinking and a collaborative mindset. A trained guide will support your team through each of the exciting course elements,
Season: Spring, Summer & Fall
Activity Level: Moderate / High
Cost: $30 per person
Outdoor Survival
Participants will learn the art of basic survival techniques in an outdoor setting. Work as a team to problem solve, make decisions and set priorities by choosing a survival site, constructing a shelter and building a fire! As a reward, your team will receive hot cocoa in the winter or s'mores in the summer.
Season: Any
Activity Level: Low/Moderate
Cost: $25 per person
Cross-country Skiing & Snowshoeing
Learn how to enjoy the winter months outdoors within the beauty of the Preserve on skis or snowshoes. Participants will learn the history of, different techniques, and the types of equipment. These activities will rejuvenate both the mind and body.
Season: Winter
Activity Level: Moderate / High
Cost: $25 per person
---
Plan a Team Building Event
Contact Erica at 920-731-6041 or publicprograms@bubolzpreserve.org to start planning your team building adventure today. Programs can be designed to fit your schedule in 60-120 minute sessions. There is a $250 minimum for all sessions.
Meeting Space
The Lodge at Bubolz Nature Preserve offers accommodations from 4 to 250, and beautiful outdoor spaces to compliment your event. Learn more about our meeting space available at the Preserve.
Team Building Gallery