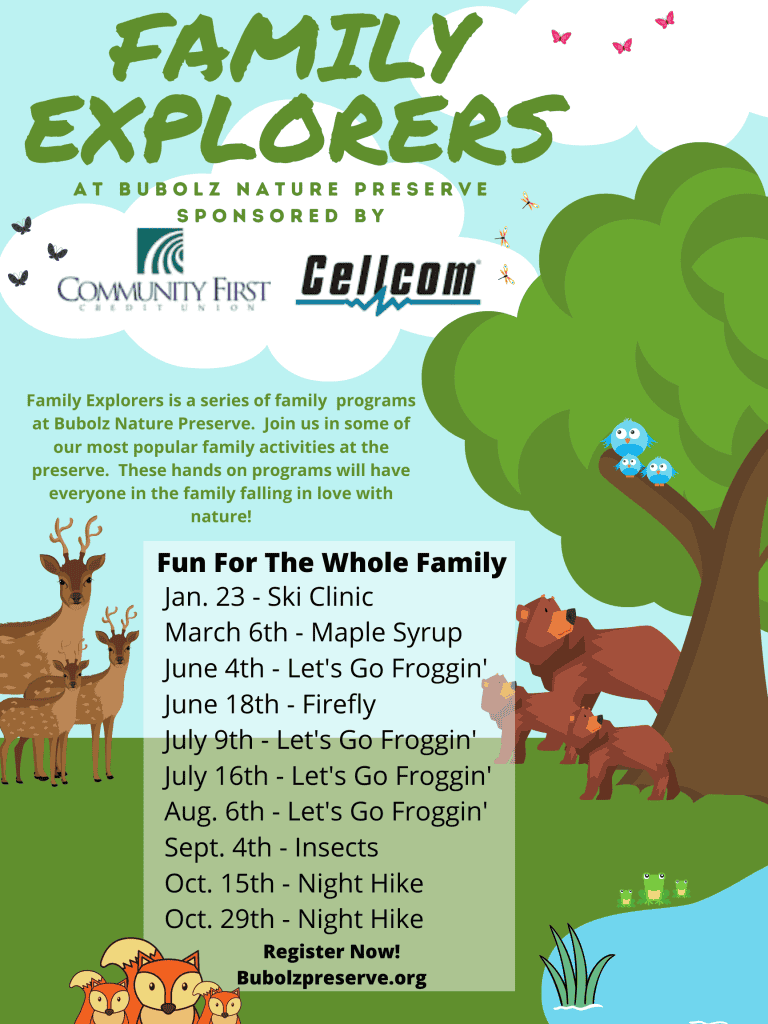 Join us for all of the family fun activities in 2021.  
Family Explorers is Sponsored by Community First Credit Union & Cellcom
Members can begin registering December 10, 2020 and non-members will be able to register for remaining spaces starting January 1st 2021.
Face Masks are Required inside of the building, temperatures will be taken that must be below 101 degrees Fahrenheit, and each family needs to sign our Covid-19 Waiver.

If you would like to become a member please click the button below.

Program Descriptions
Ski Clinic- CANCELLED due to lack of snow! Join a naturalist for a fun, family friendly cross-country ski lesson. Learn the basics: putting on equipment, falling down and getting up, ski techniques, and stopping. Rentals Included
Maple Syrup- Join us for a morning hike as we step back in time and explore the history of Maple Syrup Season in Wisconsin. Families will learn the history of maple syrup and how it is done today. You will get a chance to see the process from start to finish including tapping a tree, seeing it cooking, and sampling the finished product over ice cream.
Let's Go Froggin'- Join us at the preserve for an evening frog hike as we discover the frogs that live at the preserve. Learn about the frogs and toads found here and then go on a hike and search for them. Bring water boots if you have them!
June 4th: 6:00 – 8:00 pm
July 9th: 6:00 – 8:00 pm
July 16th: 6:00 – 8:00 pm
August 6th: 6:00 – 8:00 pm
Firefly- Explore the preserve during the evening hours! We will learn about the fascinating little bugs that light up our summer nights. Then we'll go on a night hike throughout the preserve searching for fireflies and other creatures that are active at night. (There is no guarantee that we will see fireflies.)
Insects- Families will go out into both the prairie and ponds, with nets provided, in search of insects. They will learn about the insect body parts and some of their unique life cycles
September 4th: 9:00 – 11:00 am
Night Hike- Come and explore the nature preserve in a whole new way. Discover the sights, sounds, and beauty of nature at night as we go for a hike through our prairies and forests. Please no light up shoes.
October 15th: 6:30 – 8:00 pm
October 29th: 6:30 – 8:00 pm