Don't forget to subscribe to our news letters by filling out the form at the bottom of your screen!
Our Health and well-being are significantly enhanced by time spent in nature. A simple walk in nature can change brain activity, leading to better mental health. We need nature and all of it's great benefits more than ever during this time of the pandemic. By supporting Bubolz Nature Preserve, we can continue to be a place for future generations to come and enjoy nature. If you donate online today, a very generous anonymous donor will match all donations up to $25,000.
Proceeds from the Need for Nature Campaign will help to continue funding the educational and recreational opportunities available at Bubolz year round. Bubolz Nature Preserve is a safe way to connect with nature for everyone in our community, especially now when people need nature more than ever!
During August the preserve was filled with visitors. Many families came out to enjoy hikes and picnics before the start of the school year. Bubolz had a Need for Nature Scavenger Hunt and 142 families registered for the fun. Families were asked to find 16 items at the preserve and send photos of the items they found. What we weren't expecting was the words of joy and appreciation we received from some of the families along with their pictures.
"We found everything on the scavenger hunt today! It was our first time at the preserve and the kids are begging to return tomorrow! Amazing place! Thank you!" – Margie Stordeur
"Thank you for this scavenger hunt! We LOVED feeding the turtles and had to work hard to find a spider web. The only thing we didn't find was a caterpillar, but we wanted to send it to you anyway to participate and show our appreciation." – Dana, Cooper, Dax, and Elsie Coenen
"Thanks for putting together the scavenger hunt! We've been meaning to get back to do some summer hiking there and this was a perfect excuse to get out there…" – Jennifer Schmidt
"Hi there, We completed the scavenger hunt yesterday. Unfortunately, my phone died early on. We found everything except the caterpillar – although we thought a monarch counted as a grown up caterpillar! 😊 We enjoyed ourselves – once again – at Bubolz Nature Center! Thank you so much!" – Ann Marie Mitchell
Two of the families who sent in their pictures were picked to receive a gift certificate for a family pass to an upcoming event of their choice at Bubolz! Thank you to everyone who participated in this event.
September 5
-Kids Adventure Series- Nature Senses
September 10
-Let it Bee at Bubolz
September 16
-Nature Explorere – Insects
September 26 – October 23
-Octoberfest Reimagined – Beers for Bubolz
September 30
-Nature Explorers – Grossology
October 2
-Family Night Hike
October 9
-Kids Adventure Series- Night Hike
October 14
-Nature Explorers – Trees & Bees
October 17
-Romp in the Swamp "Mask"erade
October 23
-Girl Scouts Night Hike
October 28
-Nature Explorers – Owls
November 6
-Owl Prowl – Night Hike
Join us for ROMP in the SWAMP "MASK"ERADE, a family tradition of fall fun and exploration at Bubolz for over 26 years! Explore one of two trails and collect a trick-or-treat goodie bag at the end. Families can take part in an autumn adventure as you make your way through our fall decorated trails and take in all of the sights and sounds of the prairies. Along the way you will try to spy and count how many owls you can see. You can stop and take a guess of how many creepy crawly critters you think are in the jar. Families can also take a family photo at our photo stop and submit it to our online costume contest.
Ghosts, ghouls and goblins are welcome, kids and families are encouraged to dress in their Halloween best and wear a mask. This year's event will be completely outdoors and we are taking extra precautions to ensure everyone's safety. When you sign up you will need to pick which one of 5 time slots your family would like to attend. Due to safety reasons and trying to reduce the number of people on the trails, we will not be able to change anyone's ticket times the day of the event. Pre-register online today and don't forget your mask for this year's ROMP in the SWAMP "MASK"ERADE!
$25 per Vehicle
Pre-registration required for one of 5 time slots: 12:30, 2:00, 3:30, 5:00 & 6:30
Thank you to our Spooktakular sponsors!
Bubolz is joining the Fox Cities Chamber of Commerce – Octoberfest Reimagined. We will be revealing more details about our new fundraiser "Octoberfest Beers for Bubolz" later this month! This is going to be a great way to support Bubolz Nature Preserve and celebrate Octoberfest in the safety and comfort of your own home. Click below to be taken to our Facebook event where you will see all of the updates as we announce them.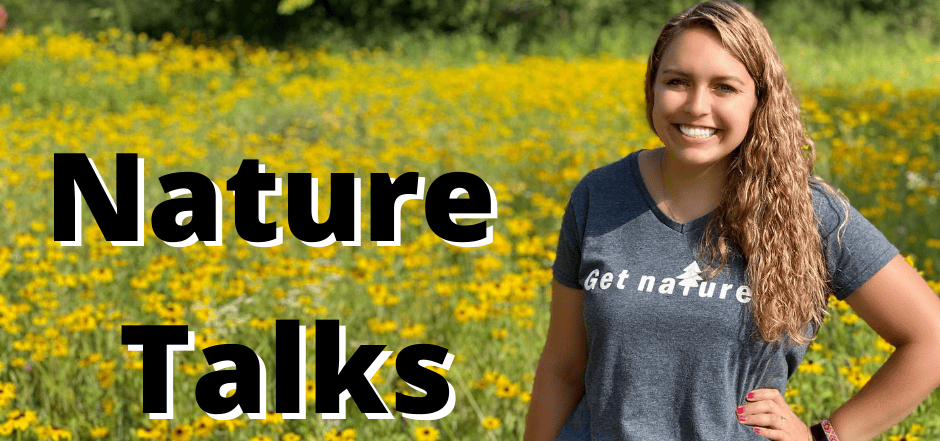 We are adding new educational videos to our website. This series of short videos is called Nature Talks. Join our naturalist Erica as she helps us learn about the different animals, plants and environment at Bubolz Nature Preserve. Visit our website to see the videos that we are adding weekly!
Invasive Species and what to do with them
Invasive species control is a never ending battle here at Bubolz Nature Preserve. Buckthorn, honeysuckle and phragmities are rampant and have been a constant battle throughout the years. Invasive species are considered a key threat to the conservation of biodiversity. Buckthorn, honeysuckle and phragmities will "choke out" areas and prevent regeneration of important native species to thrive. Removal of common invasives will not only help the aesthetics of natural areas but will help to the overall health of the ecosystem as a whole. Pictured are three common invasives found in our area. We work hard to keep the invasives at bay at the preserve.